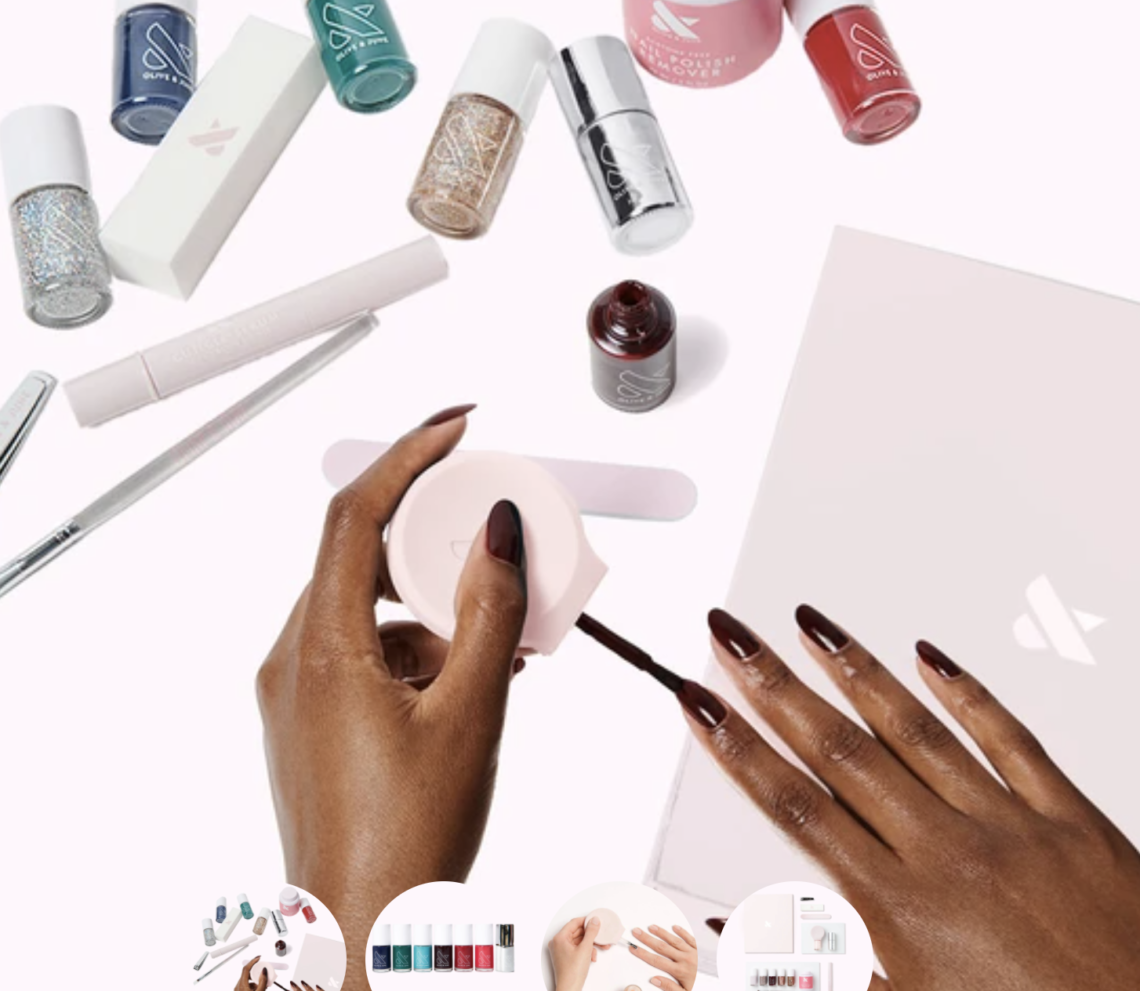 EVERYTHING you need to know about Olive and June Review
These days person's attire is not the only thing which makes them look fashionable or professional. Grooming is the most crucial factor in maintaining self-confidence and healthy personal esteem. For example, when my nails and hands look neat and fresh, it instantly improves my mood! That is why I wanted to share my Olive and June review.
There have been studies that proves that women feel more confident and happier after self care. But it is not easy and affordable for many people to do manicures and pedicures in the salon. Also with covid many of them are shut! If you have been thinking about doing your nails at home read my Olive & June review!
Olive & June Kits
The Mani System:  This is the system that I tried out for the first time. In simple words, this is a manicure products combo. It comes with tools like clean up brush, nail mini buffer, straight edge clippers, and file. It includes six shades of nail polish. The best part is you can pick which 6 you want included in the kit! You also get one poppy, cuticle serum for the perfect hydration, a super glossy topcoat, and a polish remover pot.
The Pedi System: I was so mesmerized by the mani system of Olive and June. So, I gifted this particular combo to my friend, and she also totally loved it. This combo includes seven tools like clean up brush, cuticle remover, cuticle pusher, nail mini buffer, large flat edge clippers, foot file, silicon toe separator, and other things like nail polish remover, mini buffer, foot serum, silicone toe separators and a foot rest!
The Winter Box: And here is the nail party time combo. It is specially curated for the festive season and celebration. The Olive and June review for this particular box is given by my sister, who is a diva in herself, and she just got hooked with it. This box has everything which is needed for celebration with the must-have nail colors of this season. It contains some beautiful and vibrant colors like XOXO – The hot pink, OBVI – gold glitter, OMG – deep navy, OBSESSED – dark ruby, NAILFIE TIME – real ruby, etc. Besides these colors, it includes the same tools and some products which are in the mani system for the perfect home manicure.
The complete system: And guys, it is not all over. They also have one more combo, which is astonishing because of its creation. This one system includes all the magical products for the perfect solution to manicure and pedicure issues. This combo includes all the tools which are in the pedi and mani system. Some attractive colors, and just like the mani system, you could add more colors, one dry drop to cut the polish drying time in half, and a nail primer for only some extra dollars.
Olive & June FAQs
I had a few more questions before I tried Olive & June and put a little synopsis of my questions below! I also read some Olive & June reviews from other customers so you don't have to do the digging like I did!
Are Their Products Cruelty-Free?
And the answer is yes, they have the entire products formulated naturally, and not a single animal is harmed for making their product, which also makes them vegan and cruelty-free. I love this <3
Do These Polishes Meet High-End Products Quality?
Again, the answer is an absolute yes. I have been using them for over 2 months and LOVE them. Also all their reviews are pretty positive. In short: they have a salon-like quality and it is super long-lasting. They have designed their brush wide and fan-shaped, which makes painting my nails so much easier
What Is Different About Them, Which Makes Them Superior To Other Brands?
It is the most important question which comes to mind while selecting a product. Today we see several products and brands in advertisements, magazines, and out there in the market. Sometimes one brand has a good color collection, but their quality is not up to the mark, sometimes quality is good, but they are not cruelty-free and vegan. There are so many factors that come to mind.
But Olive and June have resolved all these issues. They not only have their nail polishes vegan and cruelty-free but on top of it, they have introduced some fantastic products. My  Olive & June review wouldn't be complete without breaking down a few more of their products:
Poppy: It is a little tool that pops on top of the nail polish bottle, and makes painting the nails a breeze! This design is one of its kind and I had never seen it before. It makes painting straightforward, fast, and better than ever for both the hands for righties and lefties.
Posey: This well-designed footrest is for the perfect positioning to do the pedicure seamlessly and get the salon like professional service at home. It helps in lifting the toes at an ideal angle to do self-pedicure. It is not just a footstool, but it is also a container, or you could say a carrying case in which all the products could assemble.
Dry Drops:  Another magic product they offer! I always wanted something to solve the problem of slow-drying nail paint and guess what I got the perfect solution, and that is the dry drops. Just one or two drops cut the drying time in half. It is compact, and the squeeze tube makes its hold with one hand super easy. And it contains jojoba oil that makes it more natural and super glossy.
Online Tutorials and Master Class:  This brand went further in creativity by giving a professional guide, tips, and tricks of doing salon-like manicures, pedicures, and nail polishing at home through their specially designed tutorials, a boot camp that is a 7-day program, and their master class which has featured levels including different levels like beginner which are for the newcomers, intermediate which includes shaping and cuticle tricks and finally the advanced level which pertains tips from their manicurists about capping and to get the salon like professional finish. In the majority, there are many positive Olive & June reviews because they worth mentioning and applause.