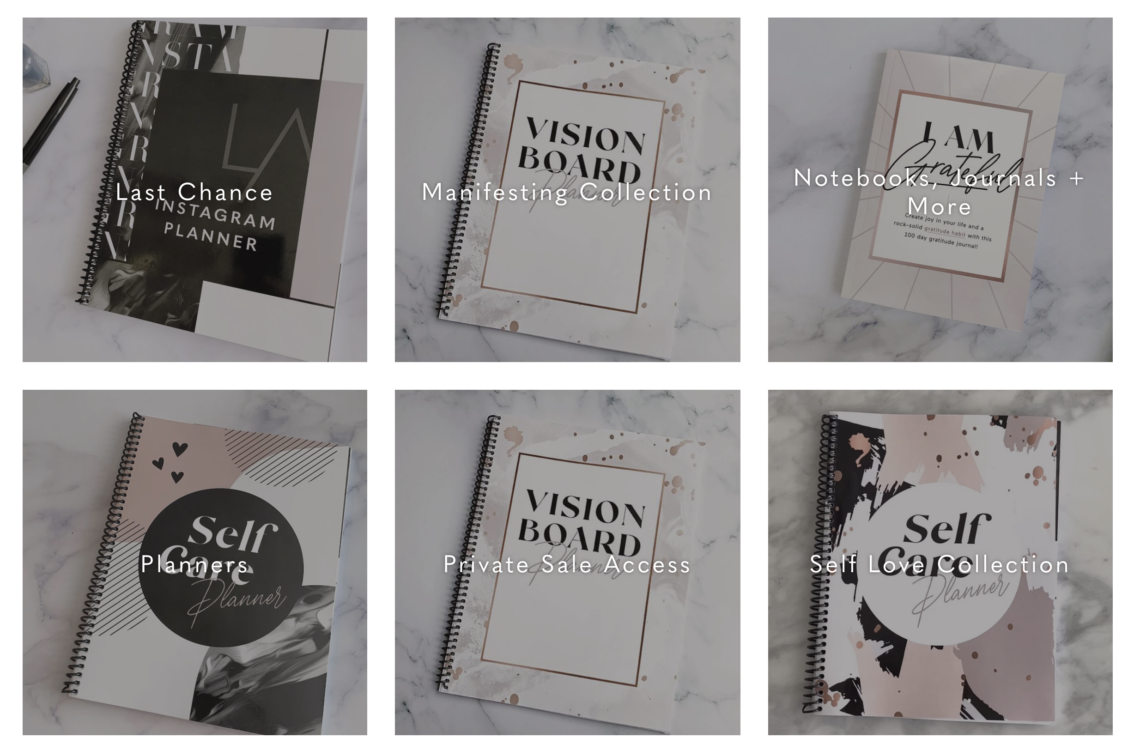 Lovet Planners – Review of 6 different types
Lovet Planners offers a wide range of planners to schedule every task and event easily. Planners bring the next level of freedom to students' and creators' lives.
Lovet Planners include;
Project Planner
Instagram Planner
YouTube Planner
Positive Thinking Journal
Vision Board Planner
Manifesting Journal
Project Planner
Projects take time to be planned. They need a lot of hard work and planning before getting started on the project. Usually, while managing projects, much space is required and it becomes difficult to thoroughly write about it on small planners. You can plan 12 months of your project on a project planner. It is a well-designed, handy, and thorough planner. It helps you to stay on the right track. It lets you handle and map out multiple projects for different channels and clients in one place, and provides a perfect guide to stay organized and on track.
Self Care Planner
To reframe your thoughts and champion your day, Self-care Planner is designed for everything you need in staying consistent with self-care.
We all know that a self-care journey is complicated to start, and once you get on it, you will find time for planning out your self-care. A self-care planner helps you stay grounded, focused and make yourself a top priority.
The inside has:
Self-care ideas
Empowering mantras and quotes
Goal setting
Guided complicated log
One-thing-a-day monthly calendars.
It is an undated planner that you can use any day and anytime to start your self-care journey and making yourself a priority.
Instagram Planner
If you are looking to take your Insta game to the next level, there is no better place to start than with this planner. – POPSUGAR
Instagram Planner makes planning, growing, and dominating on Instagram easy for every creator. A 106 pages spiral-bound paper planner with glossy softcover and back cover helps you develop content for a year. It is detailed enough to provoke new and unique ideas for your Instagram stories, reels, and posts. A very easy to use for not just creators but e-commerce business as well.
Instagram Planner brings out;
Profile Checklist
Monthly Trends
Hashtag planning
Story Highlights Planning
Profile Vision Board
Notes
Month at a Glance
To help you stay determined and motivated during the likes game, motivational quotes are added in each section.
Positive Thinking Journal
Thoughts can make or break you. Positive ways of thinking reclaim your heart and soul. You cannot completely get rid of negative thoughts. However, you can transform them into a new mindset and a new you. The 100 days Positive Thinking Journal can get you through hard and strange times. Various prompts are used that are empowering and uplifting and keep your spirit high. The journal can easily be paired with the Gratitude Journal to transform your life and lighten up your heart.
The pack includes; Positive Thinking Journal, Habit Tracker Notebook, Self Love Wall Kit.
Vision Board Planner
Vision Board Planner is the most convenient way to create visually pleasing and motivating vision boards. You will fall in love with the remainders and the affirmation that it provides. Vision can be created to take your goals dreams and goals to the next level and excel in your life. The first section of the Vision Board Planner includes color full pages with stylishly designed quotes, affirmations, graphics, and dividers. You can jot down your vision on blank pages.
The affirmations are about love, mindset, health, career, and lifestyle. The paper quality is super nice, glossy, and lightweight.
You can get the sleek, modern, and sophisticated style Vision Board Planner with Manifesting Journal and Bank of the Universe Checkbook to create your vision perfectly.
Social Media Planner
Social Media Planner is the most requested product at Lovet Planner. You can plan 12-month social media content, set goals and track your progress. This planner helps your schedule go smoother and more seamless. It pairs perfectly with Instagram Content Calendar, and you are just a few steps away from leveling up your content game and sharing unique content on social media.
Social Media Planner is a game-changer and neat planner and makes it so easy to plan outposts across social media platforms on a daily, weekly, and monthly basis. A definite must for any install blogger and influencer out there.
Lovet Weekly Planner
Lovet Weekly Planner is split into calls, to-dos, and places to go, making everything so easy for beginners. It lets you keep a better eye on your weekly tasks, and also lets you track and keep a record of different things with trackers such as sales tracker, expense tracker, habit tracker. A note section is also available, and you can fill it with vibrant colors.
You can also see your month at a glance and all the things that you have done.
Manifest Journal
Manifest Journal is a one-part guide and walks you through how to manifest and allow good things to flow into your life.
It keeps you focused and intentional. Manifest Journal is filled with affirmations and exercises to manifest your dreams and desires. It includes 12 weeks of manifesting in 84 days, encouraging quotes, FAQ, affirmation cutouts, and reflection worksheets.
You can pair it with Vision Board Journal, and enjoy the perks of sorting your life out and achieving dreams.
Daily Gratitude Journal
Practicing gratitude in life is an essential component in leading a happy life. With a daily gratitude journal, your life becomes much easier and you become grateful in many ways.
The Gratitude Journal is a 100-day journey contained in one stylishly designed notebook. Each page guides you through reflecting on what you're grateful for that day along with thought-provoking prompts that keep your mind positively firm and focused.