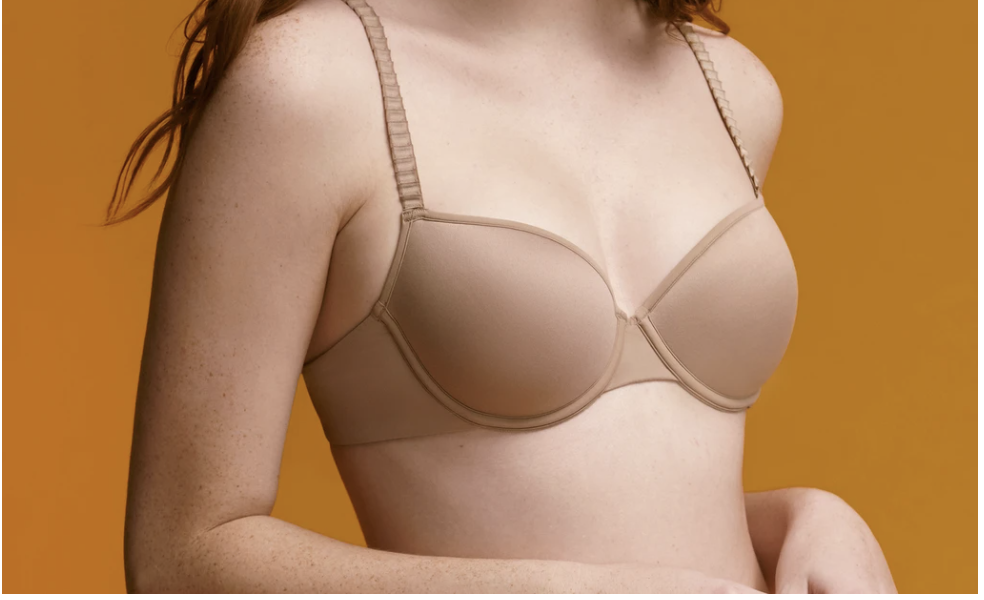 ThirdLove Review: Worth Switching Up Your Bra Brand?
Good bras are a rare find- getting the right one is no easy feat.
Support and comfort are the two gems we search for in a sea of underwire discomfort and tight straps. Adding a pinch of pretty to the mix makes it nearly impossible to find the right lingerie that won't empty your wallet for the month.
That why I'm here to give you the full scoop about a rising lingerie brand that will solve those problems for you!
The Discovery
When ThirdLove first popped up on my Instagram, I was intrigued. The catchy taglines of "Can a Bra Be Your Soulmate?" and comfy details of the brand such as ThirdLove's memory foam cup and the tag-less label had me roped in at first glance.
My first impression was awe- 90,000 5-star reviews all due to the power of a comfortable bra. ThirdLove has a unique design – making you forget Victoria's Secret altogether- with cups AA to I, including half-cups and an online quiz to help you find the right fit for your body.
As any new mom knows, pregnancy takes changes your body entirely. My bra cup size grew substantively during pregnancy and then continued to persist as I was nursing a very hungry kid.
It was a shock to the body; I had been wearing the same bra size since high school. In the following couple of decades, the changes to my body have slowly led me to pick comfort over sexy. Unfortunately, no bra really made a difference, and the back pain and sagging boobs saga continued.
First Impressions
So, I decided to give ThirdLove a try – I had nothing to lose.
I started with browsing the page and taking the quiz (which had visual aiding pictures to help you through) to find out if I had been wearing the wrong size bra. Surprisingly, the questions founded that my right size was in fact 34 C ½ – not 34 C.
The quiz was super comprehensive, including questions such as 'Do your cups gape?', or 'Do they overflow?', and 'Which hook do you typically wear?'. These were very helpful in correcting my cup size for me.
I ended up ordering ThirdLove's 24/7 Classic T-Shirt Bra. When my package arrived, I was blown away.
Not only did the bra hug me just right, but the cups created a smooth silhouette. It had no heavy padding like VS often has and was pretty comfy at the same time. And the best bit? It was kind of cute too!
I fell for ThirdLove; hook, line and sinker. An admirable trait about the brand is their exclusivity: 80 sizes, ranging from cups AA to I, and band width sizes ranging from 30 to 48 inches.
Ladies, if you're stuck trying to decide the perfect bra for you, take ThirdLove's Fit Finder Quiz and find your piece worth the investment. And if you need help, just look at my personal favorites:
24/7 Classic T-Shirt Bra (Retailing at $65)
This is ThirdLove's #1 Bra, and undoubtedly its most popular one, making rounds on social media. It has Luxe pleated straps that strike the perfect balance between softness and support.
My go-to colors are Molly and Sienna; not only are they gorgeous but they complement my natural complexion perfectly. The fabric is incredibly soft, made from micro jersey fabric, and knitted for maximum durability. ThirdLove really does live up to its 'Perfect Fit Promise'.
So, is the price worth it? It's a YES from me.
If you feel uncertain about picking this style, ThirdLove's website has an immensely helpful feature informing you of breast shapes most suited (round, slender, asymmetric, and bell-shaped) to their 24/7 Classic T-Shirt Bra.
Artisan Lace Racerback Bra (Retailing at $49 from $75)
Spice up your lingerie collection with this keeper. When lingerie meets street style, you have the Artisan Racerback! This bra features an intricate lace keyhole design at the back. With striped elastic straps and a lace center-front, this bra is true eye candy for a real lingerie lover.
When I was scrolling through ThirdLove's website, I couldn't take my eyes off of it. It was true love at first sight. I added Desert Plum to my cart immediately.
ThirdLove recommends slender, asymmetric, bell-shaped, and round breasts for this style. One of my friends (who I recommended ThirdLove to!) swears by this bra being the holy grail of all bras; her sloped narrow shoulders mean that only racerback straps stay in place for her.
24/7 Pima Cotton Plunge Bra (Retailing at $65)
If you love lounging around at home in a comfy V-neck, this is the bra for you.
ThirdLove utilized a luxuriously soft and breathable Pima Cotton to create the Puma Plunge Bra. It is ideal for us moms, who need the extra coverage and memory foam cups to prevent saggy boob syndrome.
This plunge bra lifts you and holds you in while you carry out all those mundane chores leaving you feeling secretly satisfied. It has an effortlessly cool style, with removable inserts to customize your support and fit.
However, if you're on the hunt for something more daring to pair with that hot new cocktail dress you bought, check out ThirdLove's Lacy Contour Plunge Bra!
No Show Kit (Retails for $30 from $45)
If you've heard anything from SKIMS or heard about the brand's nude tones, then the No Show Kit is no different.
You have the option to select 3 nude tones ranging from Taupe, Mocha, Espresso, and much more. Stitched free with smooth seams, ThirdLove's Comfort Stretch Bikini underwear is designed to feel like nothing is there and look seamless. And that's right up my alley.
Being a working mom, my regular meeting outfit consists of pants and a button-down. Previously, the elastic bands of my underwear were on show for my colleagues but after switching to the No Show Kit, the seamless finish of these undies was impeccable.
Bye, bye panty lines!
Everyday Cotton Thong (Retails for $12 or 6 for $48)
This comes in 6 versatile colors, allowing you to play around while feeling insanely feminine.
The Everyday Cotton Thong is an elevated take on traditional cotton underwear. This thong comes with different detailing such as lace trim and athleisure-inspired striped elastic. And let me tell you, these are my go-to for any activity including exercise.
ThirdLove Kits (Retailing for $135 from $170)
Shopping can be tough on your budget, so ThirdLove put together expert curations to save time. The best is already laid out in front of you- at cheaper prices!
Take a look at their Most-Love Kit: 24/7 Classic T-shirt Bra paired with the no-show Comfort Bikini, along with their 24/7 Classic Lace Contour Plunge Bra paired with the matching Lace Back Cheeky panty.
For me, one of their most beautiful kits would be the Oo La Lace Set with its stunning 24/7 Lace Balconette Bra and matching coral Lace Back Cheeky panty.
But if you're looking for something entirely different, like their loungewear, check out the French Terry Set in white. Its smooth texture outside and fuzzy inside allows you to go from errands to casual hangout to adventure time unbothered. I rate this outfit's versatility a 10/10.
The Verdict
ThirdLove has it all, catering to plus-sized to slim bodies. Not only are the bras and panties insanely comfortable and stretchy, but their sleepwear introduces a new level of sleeping comfort. And if you are looking to save, then their Kit&Save option allows you to save up to 30% with free shipping!
If you are ever wondering what to get the women in your life, give them the gift of choice with a ThirdLove Gift Card. ThirdLove has you covered with Gift Cards worth $50 to $250. I know what's on my Christmas List for my girlfriends this year!
And for simpler convenience, ThirdLove has E-Gift Cards delivered straight into your email to redeem at checkout. Isn't that easy? Now on the off chance, you don't love the bra, ThirdLove has a 60-day free return and exchange policy.
Digging further than exclusivity, the brand has a genuine drive to deliver versatility and comfort to its customers. All the bras are tagless, with memory foam bras with foam-padded hooks, not to mention their eye closures! Girls, you can forget about itching back there.
In addition, the cups are packed with support, but not with massive padding that creates a vision of bigger boobs entirely. Instead, ThirdLove's bras mold to your natural cleavage, creating a beautiful silhouette and boosting your self-confidence!
Add me to the list of happy customers!